---
Yes, our inventory is accurate!
Qualifies Towards Free Ground Shipping (CONUS Only) For Most Orders Of $79 Or More
Not Returnable
Solar Eclipse Glasses, Filters, and accessories are not returnable due to the event based nature of these items.
---
This is a used Kendrick solar filter in its original box.  It is in good shape, with a slight blemish.  Please note that this blemish is NOT a puncture.  We have viewed the sun through this blemish, and the filter is safe.  but is still fully keeping the full power of the sun out of the view.
This filter is sized at 223-233mm Outside Diameter.  It is listed as being able to fit over an 8" SCT.  However, we have tried mounting this filter onto 8" SCTs; It provides a very snug fit on a Meade 8" ACF, and DOES NOT fit a Celestron 8" SCT.  It is a few millimeters too small to actually slip onto the tubes of the Celestrons or Dobs.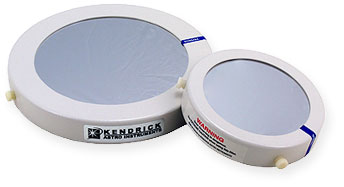 Kendrick Solar filters featuring Baader film are famous for their exquisite sharpness and detail across the entire field of view in an eyepiece and have a very pleasing and comfortable image brightness.
Kendrick Astro Instruments manufactures more models, bar far, than any other solar filter manufacturer. From the largest telescopes, to binoculars and camera lenses, we have a model to fit your application. All models use nylon thumb-screws to secure the filter to your telescope/lens. Nylon is a soft material and will not scratch the pretty paint job. Unlike the other brands' "friction fit" system, our fastening system allows the use of a larger frame which increases the clear aperture area for unobstructed full field of view.
Baader film is incredibly tough and does not break or tear easily. To puncture it with a blunt object takes a lot of force, much more force that would be used in normal day to day useage.
Unlike glass filters, Baader film does not have a perfect cosmetic surface. Wrinkles, folds, kinks, pinholes and other imperfections in this film are normal and will be present on any Baader film solar filter purchased from us. These do not affect the image quality or safety of the filter. In fact, most experienced solar observers say that "wrinkles" improves image contrast. Pinholes, even at full solar intensity, work as a camera obscura. This means that each pinhole would project its own solar image, just like eyepiece projection. Anyone expecting or requiring a perfect cosmetic filter surface should consider another manufacturer's filter.
The sun is a fascinating, dynamic object. Its surface is surprisingly detailed and changes frequently. The observing hours are more convenient. However, there are a few rules to follow before using your telescope on the sun. The first rule of solar observing is never point your telescope at the sun without a proper filter. The second rule of solar observing is always inspect the filter before placing it on your telescope prior to observing to ensure that there are no defects (scratches or pinholes) that could damage your eyes or equipment. If you discover any defects, DO NOT USE THE FILTER—IRREVOCABLE EYE DAMAGE COULD RESULT FROM THE USE OF A DAMAGED SOLAR FILTER. 
Each Kendrick Solar Filter is equipped with one or more plastic retaining screws, depending on the filter's size, that do not mar or scratch the telescope's finish. 
Baader film produces a bluish-white image while glass produces an orangey image. Some solar observers believe Baader film provides better contrast. Others prefer the warmer color produced by a glass filter. 
Each Kendrick solar filter size listing represents the outside diameter of the telescope's OTA or dew shield that the filter is designed to cover. We suggest that you measure the diameter of the objective end or dew shield of your OTA in millimeters and select a filter in a size large enough to cover the objective completely. Do not wait until the week of the event to confirm that your solar filter fits your telescope or binoculars, and can be secured in its place in front of your telescope's objective or binocular lenses. Once you receive your order, immediately check and verify that the filter is undamaged, that it fits over the objective(s) completely, and that the adjustment screws tighten enough to hold the filter in place. You must confirm this before attempting to point your telescope or binoculars at the sun in order to ensure that the filter protects your eyes and your equipment. If the filter does not completely cover the objective(s), or is loose and does not stay firmly in place, or if it shows signs of damage, do not use the filter or point your optical equipment at the sun. Ever. 
Neither Kendrick nor Mile High Astronomy are liable for damages to persons or property resulting from the user's failure to exercise ordinary care in the ordering, installation, and use of a solar filter.
Barcode:

---