---
Qualifies Towards Free Ground Shipping (CONUS Only) For Most Orders Of $79 Or More
Not Returnable
Please note that used items are not returnable.
---
This is a 1.25-inch Meade O-III filter, made in Japan.  The filter comes in its original plastic jewel case and box, and is in very good shape, showing only some very minor surface imperfections due to its age and use.  
Oxygen - III (OIII) Meade Nebular Filters provide an extraordinary level of nebular filtration on diffuse and planetary nebulae. Observations of these nebulae in a city environment with the O3 filter often yield more image contrast than observations of the same objects in a darksky setting without the filter.
The O-III filter extracts more than 80% of the light emanating from the two oxygen-III spectral lines at 496 and 501nm.  Objects such as the Omega (Swan) Nebula (M17) in Sagittarius, the Orion Nebula (M42) in Orion, the Helix Nebula (NGC 7293) in Aquarius, and the Eagle Nebula (M16) in Serpens are revealed in dramatically increased detail.  Meade 60-layer interference coating technology isolates the desirable O-III lines while attenuating other spectral lines virtually to zero.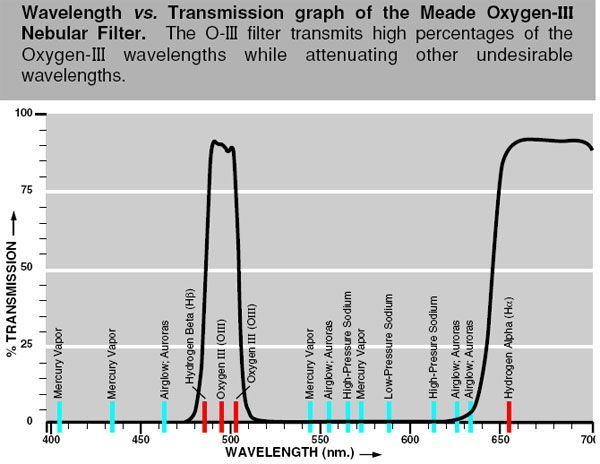 As with Meade Narrowband Filters, the O-III Filters are complements to other Meade nebular filters.  The effectiveness of each filter type is highly dependent on the physical characteristics of the particular nebula being observed.

Barcode:

---