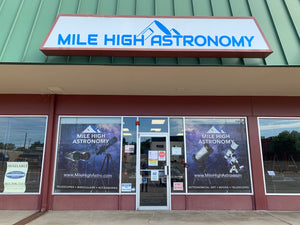 Mile High Astronomy is Expanding
Going into the pandemic last March, I didn't know what to expect for this business. This past year has been full of challenges both personally and for the store. Our showroom has remained closed for the past 14 months, and will stay closed a while longer, as we work on our expansion!
After the initial slowdown last March, we have seen interest in amateur astronomy grow significantly. Stargazing is definitely a hobby you can do while social distancing, and we have seen a lot of new people jump into the hobby and discover (or rediscover) a passion. 2020 turned out to be a record year for telescope sales across the industry, and this year continues to see both record demand and significant supply constraints. Effectively, by last July, manufacturer warehouses were empty. The products we received in August and September that would normally be in support of Christmas sales were sold within a week or two!
This year, 2021, represents MHA's 3rd year in business, and I'm happy to say we are continuing to grow. Despite inventory availability issues, what was our showroom was quickly overtaken by shipping and inventory after the shutdown in March 2020. In short, we had run out of space.
Fortunately, the storefront next door was vacant, and we have been able to lease it to double our warehouse and showroom footprint. We are growing from a combined 1400 sqft to 2800 sqft! Our address and everything else will stay the same, but our warehouse space and showroom will each double in size.
This does mean we are going to keep our doors closed a little while longer. We need to let the contractors do their thing, and then we will finish off the larger retail space. We expect this will take another couple months, and we will announce a reopening date in the future as we get the larger space closer to completion. We know it's been a long wait, but we hope it will be worth it when we can welcome you back into our expanded showroom!
Supply Constraints
That's the good news, now let's talk for a moment about the supply situation. Telescopes are a small industry when you compare it to most hobbies like cycling or photography. If you happen to be a cyclist, you probably know that industry too is experiencing record demand and supply shortages. At this point, so is the computer industry, auto industry, and many other segments of the economy. Demand is outpacing supply, and there is no more production capacity immediately available. This has some unfortunate implications for manufacturing. Mainly, that there simply isn't the ability to keep up with demand. The shipping industry constraints have added to this issue, with container shipments experiencing significant delays and becoming unpredictable.
We have a significant backlog of orders with our suppliers, some extending 14 months out. This has particularly impacted Celestron, Meade, and Sky-Watcher products, but has impacted every manufacturer in at least some of their product lines. If you can't find the telescope or accessory you want right now, please understand this is across the industry, and manufacturers are already at capacity. The supply issues, shipping capacity issues, and component supply issues are all leading to increases in prices. Many vendors have already instituted price increases, and I expect the others will before the end of the year.
In short, I don't expect these supply issues to let up until mid 2022, or 2023. I've placed much larger than normal orders, so we do have a lot of stock, but may not have a specific product. As always, our website is up to the minute accurate with inventory.
Due to all of these supply issues, we are explicitly only offering for purchase what we have in stock. We are not taking pre-orders, because we can't provide accurate ETAs. We have fortunately managed to keep a reasonable supply of entry level telescopes, and a good selection of accessories. For astro-imagers, we currently have a strong stock of William Optics scopes, including the elusive RedCats! If there is a specific product you want that is out of stock, make use of the Notify When Available button on the product page, which will email or text you when the item you want becomes available. 
In Summary
Thank you for your ongoing support through these past three years. It's been a rollercoaster, but it always brightens my day when we can help introduce someone new to astronomy, help someone get started in astrophotography, or find the right accessories to enhance their experience. With our expanded space, we will continue expanding our product offerings, including a wider range of binoculars and spotting scopes, and a continued focus on providing expert guidance and support.
As always, clear skies!
- Sorin
---